I was tagged by Pratiba Rajesh  and Sonia Jose to post my 10 favorite books. In this list are books that have moved me, inspired me and helped me learn. Oh! it stopped me short!!
What kind of number is 10 for a Booketarian? It's like trying to selet 10 perfetly cooked rice from your plate. impossible!! I have decided to attack this project as a time line and see where it goes from there.
My earliest memories are Tinkle. It was these books that made me want more, learn more, understand more. I would wait the month to begin as I would get my subsrcibed book and open a whole new world of talking animals, moral stories, fables from parts of India. Shikari Shambu, Suppandi became my pals and conversation starters.
From Tinkle I graduated to Enid Blyton. I found myself being very well-behaved after
reading Amelia Jane, Lived life on the circus, laughed at Fredrick (fatty's) antics while solving a mystery and empathized with George(ina) when she stopped off in a temper.I have to say I was tempted to list "adrian mole and the cappuccino years"
The Russian KGB, CIA's, FBI, Interpol, took over my reading shelves with authors like Evlyn Anthony, Sidney sheldon, Jeffery Arhcer, Damielle Steele etc.
Then came the the classics and the sagas; I have to mention 3 men in a boat.. that bought out memories of me laughing aloud in strange places – thorughly enjoying the 3 Brit men  humour and all with a dog.
Everyti
me i decide on a title, i think of someother memory of a book or a moment and I end up being undecided on what to pick next. So stepping over a few titles under "classics" i also pick Anna Kerenina – only because I  was so caught up in the language and the story that  I actually ended up bunking work. My other choices were: ount of Monte christo  (I have read it so many times yet I still sigh!), Good earth, tree gorws in Brooklyn, Hemmingway, Hukleberry Finn, little women… i can go on and on.
This book was like a bible for a long time, always lying on my bedside table amongst my current reads. It helped me understand myself, understand others, think internalize and stay balanced. Even now there are times when i search for this book in my shelf, flip a page and read a passage.
When I reached college i went though loads of books ranging from literature to romance, murder mystery to historic fiction: Rebecca, isabelle Allende, Amy Tan, Barbara Kingslover, Mitch Albom, Dan Brown, Wilbur Smith, Paolo cohelo etc. Here I am picking Joy Luck club by Amy Tan.
Who can forget Roark in Fountainhead! How can I not give it a space of its own?
Now I have to start narrowing down as I have 2 more slots!! what pressure.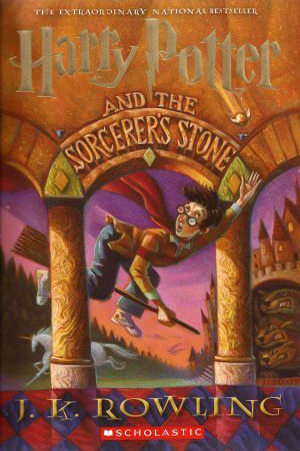 Have to go on my list of top 10 is Harry Potter and the magic it gave my imagination! my visualization skills went wild picturing Azkeban and Hagrid and the slotting table (the movie just ruined it for me). So though I would love to put calvin, Sherlock Holmes, Agatha christie, Ashok Banker, Roald Dahl I would have to go with Harry Potter. Sigh!
I have sincerly followed books selected by Oprah Winfrey's book club. So it's mandatory that I pick a book
from the books I have read from her long and illustriuos list. Rohinton Mistry's A fine Balance is a book that tipped mt perception of India espeially Mumbai.
I hope you enjoyed my list and get inspired to read something if you have not done so!